Ready to move vipul tatvam villas 287sq.yd for resale @5 cr. all inclusive 9999980895
Published: November 24 for
Justabout
Tatvam Villas Gurgaon : Tatvam Villas ( Buy, Sell, Rent ) spread over an area's of 50 acres (aprox.), is a part of 150+ acres premium integrated township called
vipul
Word on main Sohna Road Sector-48, Gurgaon. 254 exclusive villas designed to match the taste of the discerning few, these villas are modern contemporary in design with all the features to facilitate comfortable living , backed by plethora of modern services.
Location Features : The Tatvam Villas - ( By Vipul Group ) project is located at sector-48 in the city of Gurgaon. The Project is located on the main road of Sohna. The location is at the heart of the city and connected with the Golf Course Ext. Road , highways and major roadways. The carport and railway stations are all nearby. The major shopping malls, shopping centres and other spots of entertainment are also quite near to the Tatvam Villas .The big and small offices, IT Parks and other workplace areas are at a few minutes distance from the Tatvam Villas. The schools, colleges and universities are also in proximity to the project sector/location. Therefore, the location is ideal for the flat owners of all types of professional backgrounds..
Features And Specification of the Project (Vipul Group Tatvam Villas Sector 48 Gurgaon ) : Tatvam Villas project at the city of Gurgaon on sohna road has all the modern amenities and facilities. There is 24+ hours of electronic and security guard surveillance. There is also 24 hours
video
recording facility. The other amenities include gardens, children parks, play ground,water feature, pavilions for sitting and strolling, meditation groves for rejuvenation, jogging trails, lawns, tennis court, basket ball court, community halls, spa, gym, swimming pool,and much more. There are also WI - Fi internet connection in all the Villas. All the Villas are air-conditioned and Well furnished. There are 24*7 hours of power backup and water supply in the property. The floors of the villas including the stair cases are fully marvelled and the walls are painted with highest quality plastic paints. The main gate is made of very strong and durable wrought iron. The windows are sliding types with glass panes and metal frames. There are bathtubs and beautifully designed fittings inside the bathrooms. The bathroom and kitchen tiles are designed and glossy. Thus, the villas look gorgeous from outside as well as inside.
Type –DC(BHOOMI)
Area- 3000 sq.ft/ 300 sq.yd
Bedroom -3BHK+STD+SQ
Rentals -70k+M
Sale Price -4.5cr+add+st
Tatvam Villas Facilities
+Gated Community
+ Physical & Electronic Surveillance
+ 24 Hr.
Video
Recording of Ingress & Egress
+ Audio Connection with Entry Gate
+ Designated Play Area for children
+ Undulating Landscaped Areas
+ Water Bodies with abundant foliage & flora
+ Pergolas, Pavilions & Walk-way & Jogging trails
+ Celebration Court for festivals, events & weekends
+ Meditation Groves
+ Basket-ball, Badminton & Tennis Courts
+ Gymnasium & club house
+ Amphitheatre
+ Wi-Fi Connectivity
+ Power back-up
+ Private Swimming/ Plunge Pools
+ Split Air Conditioners in each Villa
+ Centralized Vacuum Cleaning
For more details & BOOKING:
JUST ABOUT PROPERTIES
CALL: +91 9999980895
Visit Us : http://www.justaboutproperties.com
Write review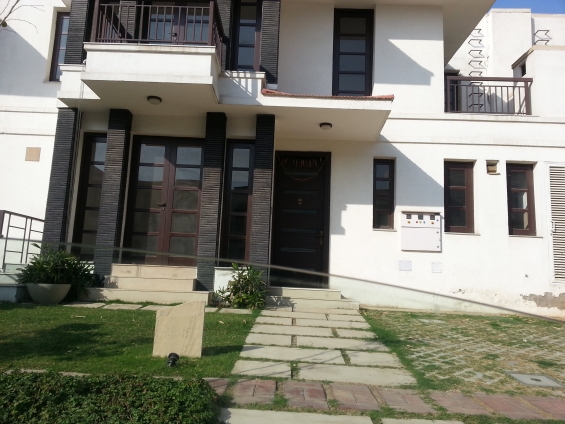 Ready to move vipul tatvam villas 287sq.yd for resale @5 cr. all inclusive 9999980895
Write review
Leave your comments on this ad
Offensive messages and spam will be removed